Products
Zeitaku-Chazuke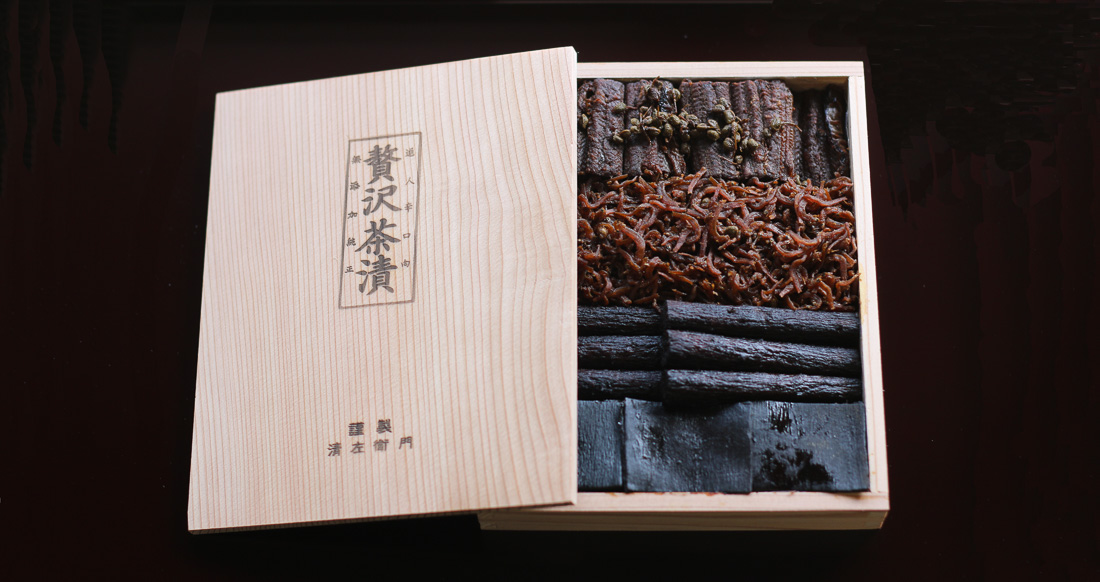 This box set of four kinds of tsukudani, is our flagship product. The four basic ingredients are conger eel, dried young sardines, kelp (konbu) and burdock root. Each item is individually simmered in our specially made soy flavored broth.
We recommend putting a little bit of each tsukudani, together on freshly steamed rice and then pouring hot green tea over it. You will enjoy the the flavors of each of the ingredients as well as the soy sauce and sake seasonings, which will have seeped into the tea and rice.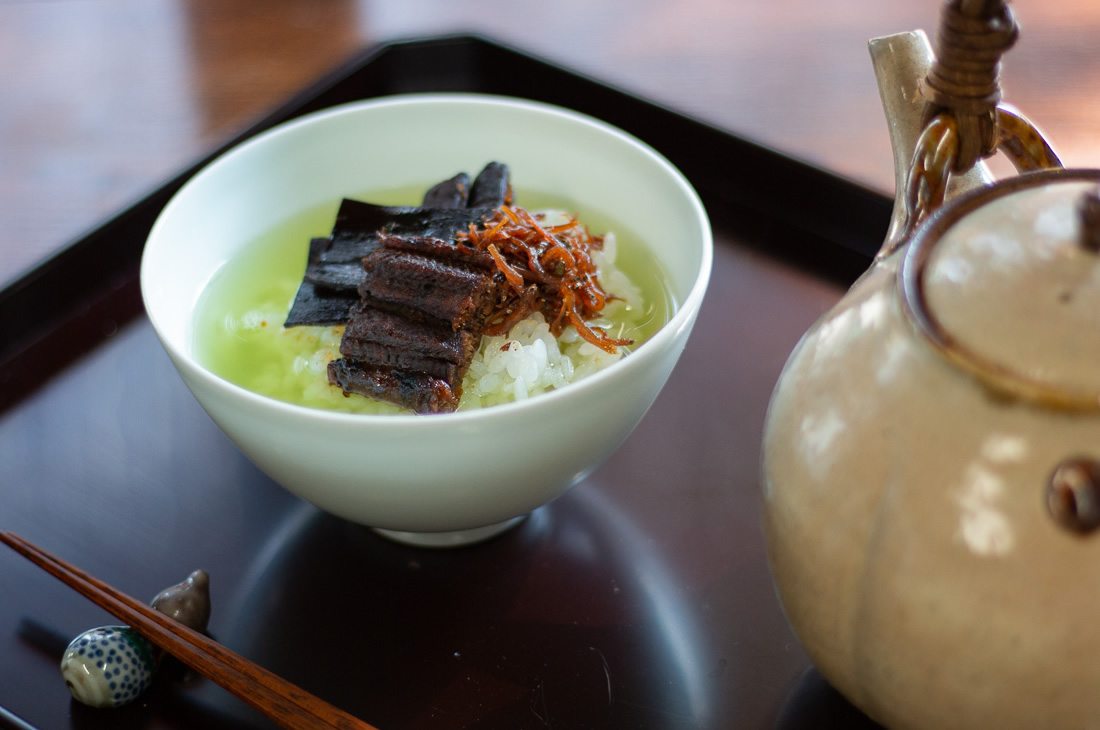 Basic Zeitaku-Chazuke Recipe
Steamed Rice 100g
Zeitaku-Chazuke in total 10g
Green Tea 75cc
When you eat a mouthful of our Zeitaku-Chazuke, you will first taste the soy sauce, but soon you will recognize the taste and texture of the individual ingredients. This is the traditional and most popular way, our discerning customers enjoy our ochazuke.
To make our Zeitaku-Chazuke we use top quality conger eel, dried young sardines, kelp (konbu), burdock root, and as seasonings only naturally brewed soy sauce and junmai-sake. No sugar, mirin or any other sweeteners are added.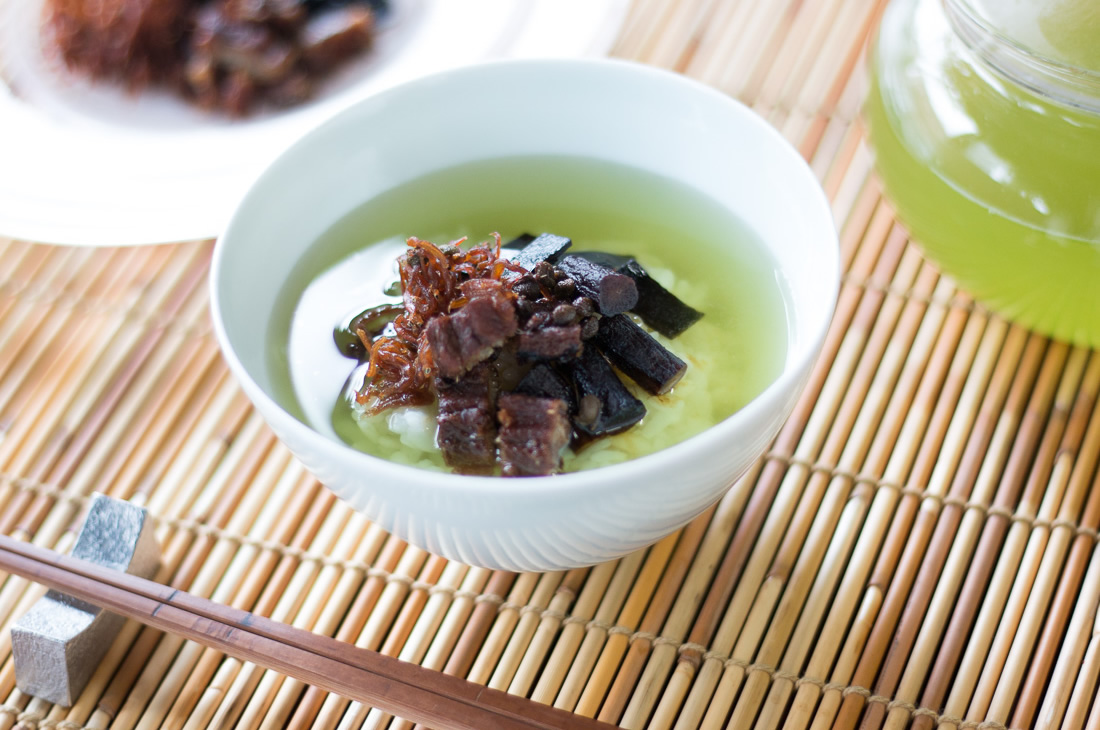 In the summer we recommend making Zeitaku-Chazuke using chilled green tea.
Of course our Zeitaku-Chazuke can be simply enjoyed with fresh steamed rice or added to a lunch box.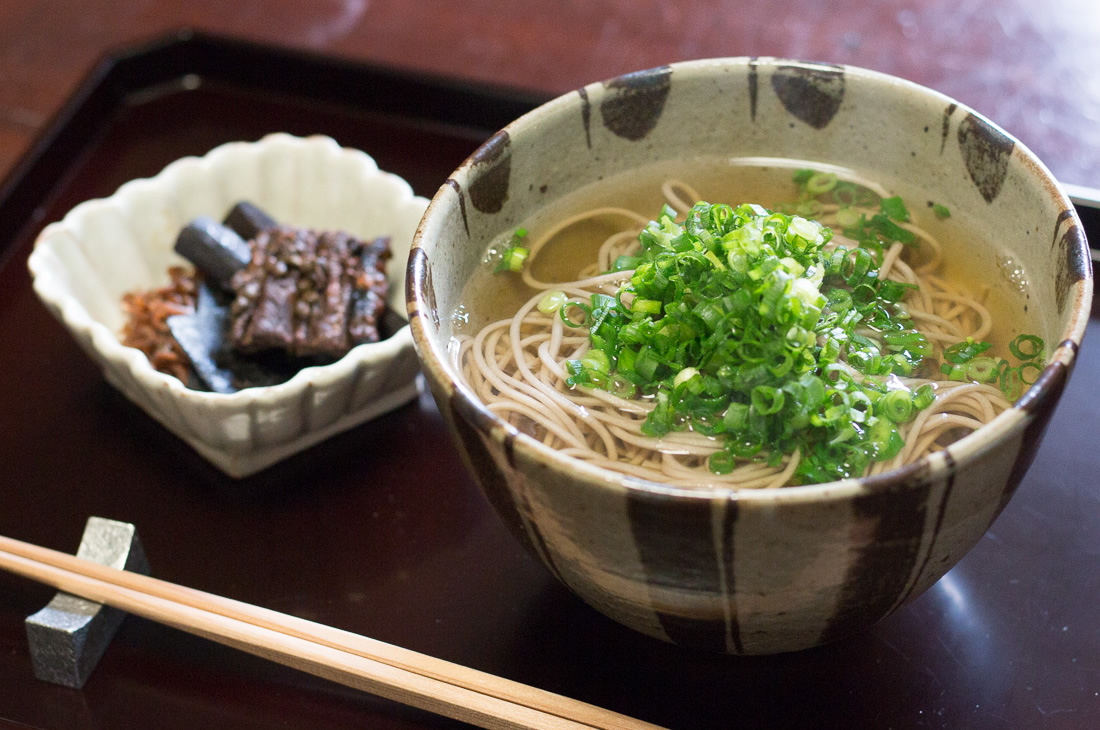 Zeitaku-Chazuke is also a perfect topping for soba. We recommend adding lots of chopped green onions.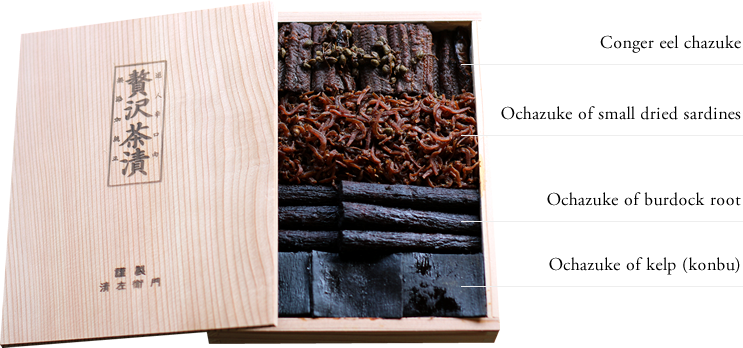 Our Zeitaku-Chazuke is a selection of four kinds of tsukudani, made with conger eel, small dried sardines, kelp and burdock root. We recommend eating all four tsukudani together for a special harmony, but of course each can also be enjoyed individually.
Please keep tsukudani refrigerated to preserve its delicate flavor. Only the kelp can also be stored at room temperature.
Conger eel chazuke

High quality conger eel is first charcoal grilled without seasoning, then simmered in a sake and soy sauce, flavored with our home preserved sansho pepper. This is a very elegant tsukudani.

Ochazuke of small dried sardines

These small dried sardines are not sweet like most other tsukudani on the market. We flavor ours only with sansho pepper and soy sauce. It is equally good on ochazuke, as a filling for rice balls or served with freshly steamed rice.

Ochazuke of kelp (konbu)

We simmer best quality kelp, in sake and soy sauce only. Try just a little bite. Slowly, the umami flavor will open out.

Ochazuke of burdock root

Burdock root is a popular ingredient in Japanese cooking. Enjoy the texture and flavor of this distinctive tsukudani.