Products
Tsukudani and Side Dishes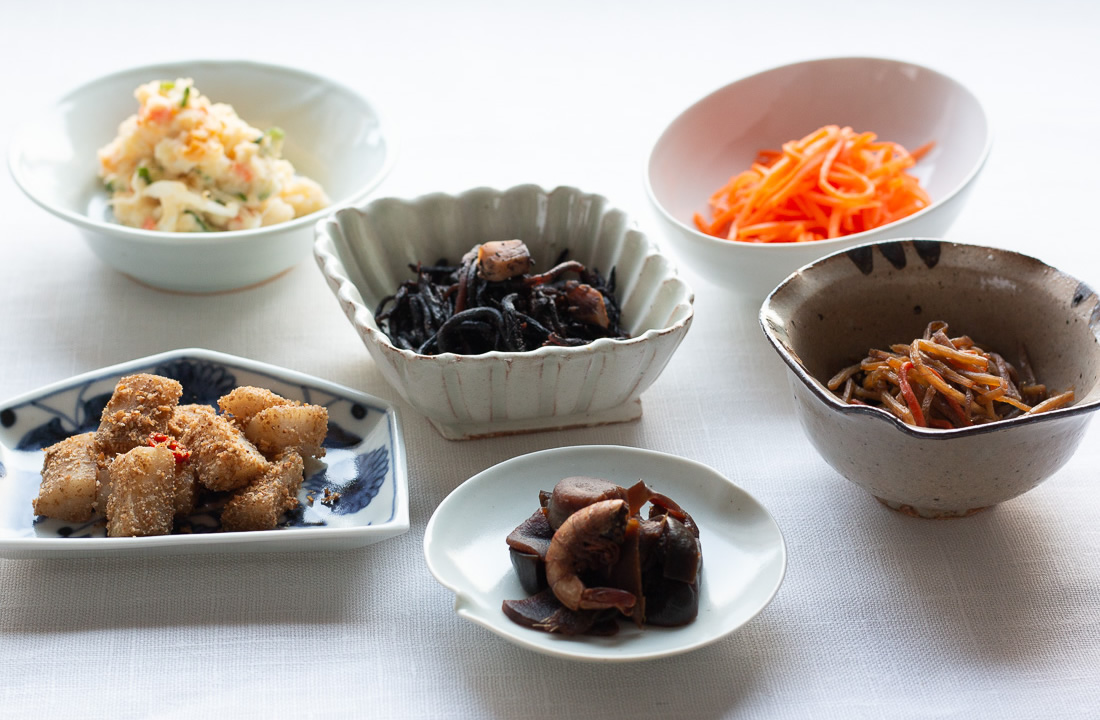 Historically, the Japanese have been good at integrating foreign foods into their daily meals. When introduced to a new dish from abroad, the Japanese rearrange it, often substituting unusual ingredients with local ones and adjusting the dish to the local taste and climate.
At Seizaemon we offer originally created tsukudani as well as traditionally made Japanese side dishes, but we also offer a selection of more modern side dishes which we hope will add color and variety to your dining table.
All our products are made with sincerity, by hand, using only safe ingredients and additive free seasonings.
We hope you enjoy the distinct flavors and clean aftertaste of our products.
Yancha-ni

Roasted soy beans and young sardines are flavored with a sweet and soy sauce. The perfect seasoning and texture of this dish will make you want more! A good accompaniment to beer.

Temahima-ni

The name of this delicacy means "time and effort". This name was given to express how labor intensive and time consuming it is to make this dish. A special eggplant called "mizu-nasu" is first pickled in rice bran, then cooked and flavored with freshly harvested small shrimp called "ebijako".
It matches well with freshly steamed rice or also as an appetizer to go with a cup of sake.

Kinpira style Burdock root

This is a popular traditional Japanese side dish. Its crunchy texture and sweet and spicy flavor matches well with rice or also sake.

Hijiki-seaweed

This is another popular traditional Japanese side dish. We use the best quality hijiki seaweed we can find and simmer it in dashi broth. We do not use instant dashi, but rather prepare it ourselves in the proper and traditional way.

Salmon Toro

Salt cured belly of salmon, grilled over high quality binchotan charcoal.
We use red salmon caught near the Kuril Islands. This is probably the most popular way of eating salmon in Japan.

Zeitaku-Furikake (Zeitaku means deluxe)

Furikake is a dry seasoning usually sprinkled on freshly steamed rice. Our Zeitaku-Fruikake is made with top quality dried bonito, naturally grown shiitake mushroom and organic ginger.

Sweet soy Sardines

Very fresh sardines are simmered in a sweet soy broth with plenty of fresh ginger. A good accompaniment to freshly steamed rice.

Vinegared Sardines

Very fresh sardines are simmered in a sauce made with soy sauce and vinegar, only. This is a light dish and goes well with steamed rice or also with an alcoholic drink.

Soy Beans with Ginger

To make this dish we use new ginger which we have pickled in rice bran. First the ginger is soaked in water, then simmered with the soy beans. It has a sweet soy flavor which goes well with rice or as an appetizer with an alcoholic drink.

Ginger and Burdock Tsukudani

To make this dish, we use new ginger that has been pickled in rice bran. First the ginger is soaked in water to remove some intensity, then simmered with shaved burdock root and seasoned with a sweet soy sauce. It is a simple dish, yet very delicious!

Simmered Shiitake Mushroom

High quality naturally grown shiitake mushrooms are slowly simmered in a sweet soy sauce. The shiitake mushrooms are good eaten whole as they are, or can also be julienned to use as a topping for sushi or somen noodles.

Mineral Nuts and Fish

Organic almonds, cashews, walnuts and dried young sardines and first roasted until fragrant, then flavored with a sauce based on brown sugar from Okinawa. It goes well with wine.

Pickles

Our selection of pickled vegetables (celery, onion, carrot and cucumber). This product is popular for its crunchy texture and distinct flavor.

Sweet Pickles

Domestically grown paprika is flavored using organic honey. The result is a paprika that tastes almost like a fruit!

Carrot Salad

A light, sweet and sour tasting carrot salad. We use organic carrots and honey to prepare this dish.

Vinegared Burdock Root

This is a popular traditional dish, eaten at New Year's celebratory meals. The burdock root is flavored sweet and sour, then sprinkled with lots of sesame.